Kenya AB Gura Natural
About This Coffee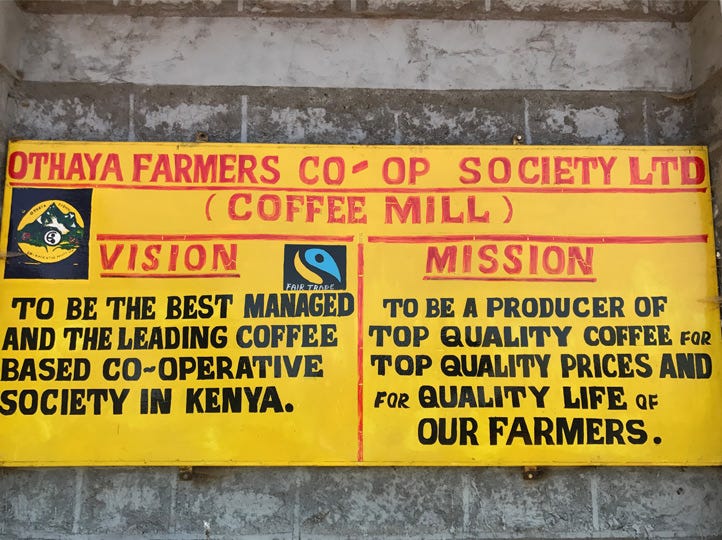 Karuthi wetmill is part of Othaya Farmers' Cooperative Society Limited, one of a few washing stations or "factories" that form the coop group based in the heartland of Kukuyu territory, Nyeri. The mill processes coffee cherries sourced from 378 farmers. The total farmed area is 82.8 acres with individual trees yielding between 5 and 10kg of cherries per season.
| | |
| --- | --- |
| Origin | Kenya |
| Subregion | Nyeri, Central Highlands |
| Harvest Season | 2022/23 |
| Producer Type | Washing Station |
| Wet Mill | Gura |
| Co-Op | Othaya Farmers Co-operative Society |
| Processing | Natural/Dry Processed |
| | |
| --- | --- |
| Variety | Batian, Ruiru 11, SL28, SL34 |
| Coffee Grade | KEN CA WA AB |
| Screen Size | 15/16 |
| Bag Weight | 60 KG BAG |
| Bag Types | Grain Pro / Ecotact |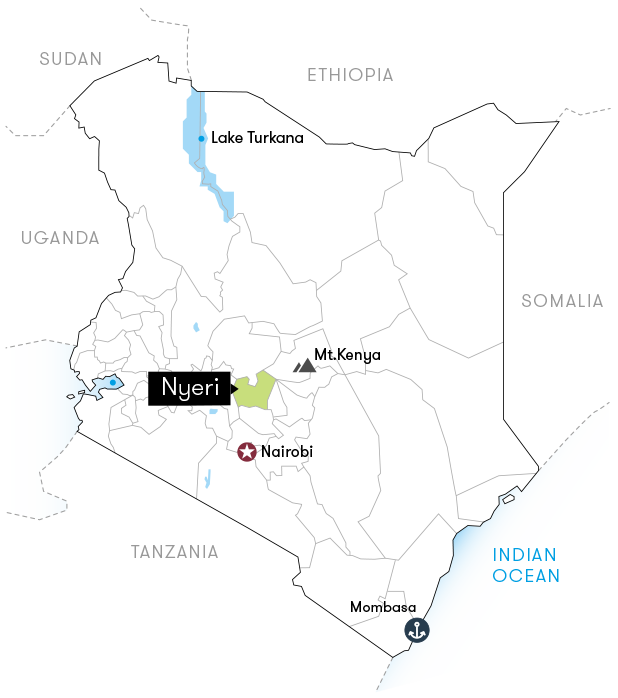 The Region
Nyeri County has cool temperatures and fertile central highlands, lying between the Eastern base of the Aberdare (Nyandarua) Range, which forms part of the Eastern end of the Great Rift Valley, and the Western slopes of Mt. Kenya. Nyeri town (county headquarters) acts as a destination for those visiting Aberdare National Park and Mt. Kenya.
The combination of fertile soil, seasonal rainfall and high altitude provide the ideal climate for coffees characterised by high acidity, full body and ripe fruit flavours. Due to the cool temperatures at altitude, particularly at night time, coffees from Nyeri tend develop and mature slowly producing very dense, hard beans high in acidity and complexity.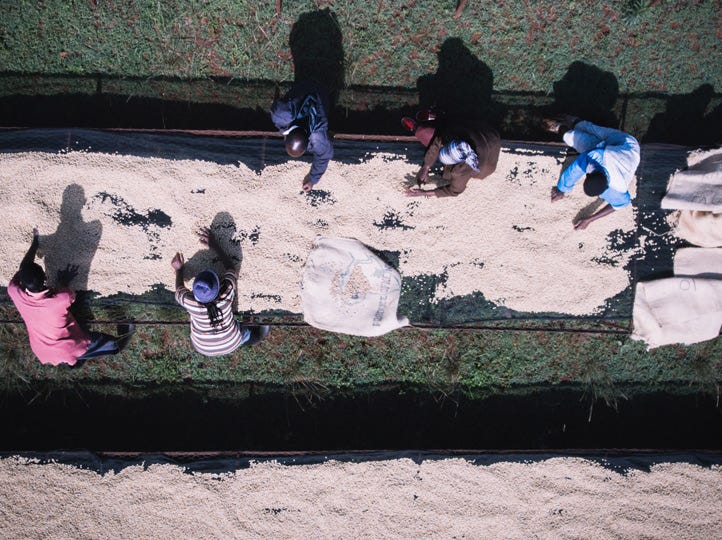 The Process
This lot is naturally processed on raised African beds. Ripe cherries are floated to separate by density and then dried slowly in the sun on raised beds. The cherries are carefully turned throughout to ensure consistent drying and avoid over-fermentation or mould formation.
History of Coffee in Kenya
It seems likely that coffee grew wild within the region that would become Kenya, buried deep inside impenetrable forests, or perhaps hiding in plain site; but it wasn't until 1895 that missionaries both protestant and catholic attempted to grow coffee for commercial purposes. The 100 seeds from Reunion Island that would serve as progenitors to the Kenyan coffee industry arrived on a train, carried by priests belonging to an order known as "Holy Ghost Fathers." On August 12th, 1899, they arrived at the spot that would quickly become the country's capital city. One of the early protestant medical missionaries was Dr. Henry Scott. After his death in 1911, a new hospital complex was named after Dr. Scott and when the department of agriculture took over the complex in 1923 they kept the name: Scott Agricultural Laboratories, or "Scott Labs." This is the origin of the "SL" in SL28 and other coffee varieties selected at the lab.
Status

Spot

Subregion

Nyeri, Central Highlands

Producer Type

Washing Station

Wet Mill

Gura

Processing

Natural/Dry Processed

Bag Types

Grain Pro / Ecotact

Variety

Batian, Ruiru 11, SL28, SL34

Coffee Grade

KEN CA WA AB

Min Growing Altitude

1750m

Max Growing Altitude

2000m

Screen Size

15/16

Origin

Kenya

Warehouse

Vollers Group Uk

Co-Op

Othaya Farmers Co-operative Society

On Sale

No

Top Lot

No

CTRM Contract Number

P8001751-1

Price Per Kg

£10.50