Uganda Gorilla Summit 'Blue Roller' Honey
About This Coffee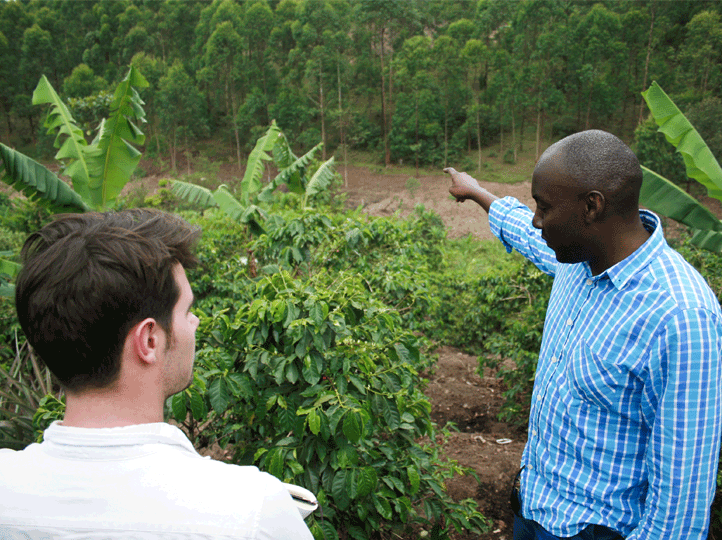 This honey processed microlot was sourced from 500 smallholder farmers in the community of Kayungwe near Bwindi Impenetrable National Park in South West Uganda. These farmers supply cherries to our long time partner in the region Gorilla Summit, who process the coffee at their washing station in neighbourhing Kanungu.
Gorilla Summit Development Limited is an independent coffee company started by local Ugandan Gerald Mbabazi, whose family has long been involved with schooling in the region. Kanungu has historically produced rather poor quality coffee due to lack of investment, infrastructure and local market. However, the conditions for specialty arabica production are excellent. Gerald recognised the opportunity to grow the local coffee economy by building a central washing station paying higher prices to farmers for ripe cherry.
Gerald's vision for Gorilla Summit is to use specialty coffee to transform producing communities by investing profits in healthcare, food security and education. We are proud to work alongside this project which consistently supplies great quality coffees and brings transformative change to some of the poorest communities in Uganda.
| | |
| --- | --- |
| Origin | Uganda |
| Subregion | Kayungwe, Bwindi (South West) |
| Harvest Season | 2021/22 |
| Producer Type | Small Holder Farmers |
| Processing | Honey Processed |
| Growing Altitude | 1400m - 2200m |
| | |
| --- | --- |
| Plant Species | Arabica |
| Variety | SL28, SL34 |
| Coffee Grade | UGA CA NAT SPL SD |
| Screen Size | 15 Up |
| Bag Weight | 60 KG BAG |
| Bag Types | Grain Pro / Ecotact |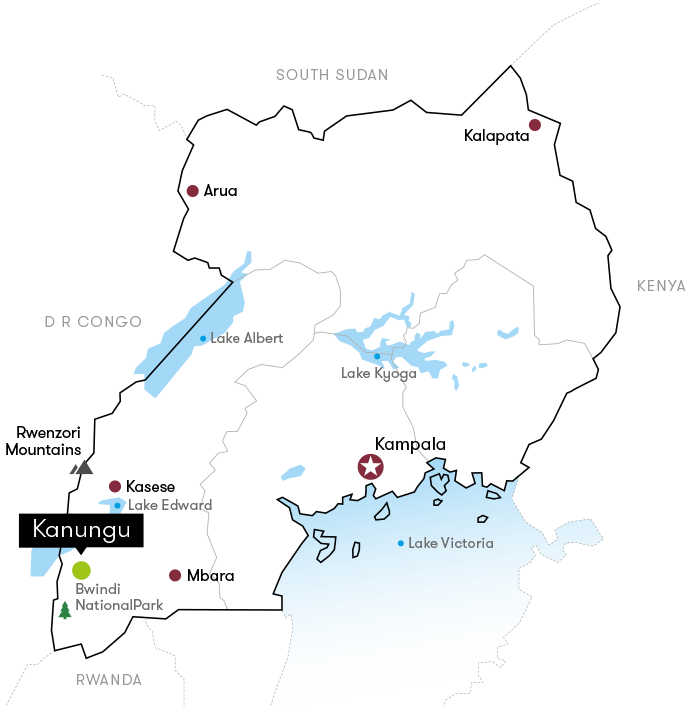 The Region
Kanungu lies in South-West Uganda, south of the Queen Elizabeth national park and close to the border with Rwanda and Congo. It is one of the poorest regions of Uganda, with high rates of infant and maternal mortality, disease and lack of access to healthcare and schooling. It also has excellent conditions for specialty arabica cultivation, with rich fertile soils, plentiful rainfall, high altitude (up to 1,900masl) and lots of sunshine. Projects like Gorilla Summit represent a great step forward for a sustainable local economy which pays fairer prices to farmers for excellent quality coffees.
Kanungu district also boasts the largest population of rare Mountain Gorillas in the world and tree-climbing lions. It is home to the Batwa-Pygmy community which lives alongside the Bakiga people. The Bakiga tribe's dance is one of the most unique of all Ugandan tribes, characterised by emphatic stomping and chanting. It is said that when the Bakiga start stomping, mini earthquakes are started!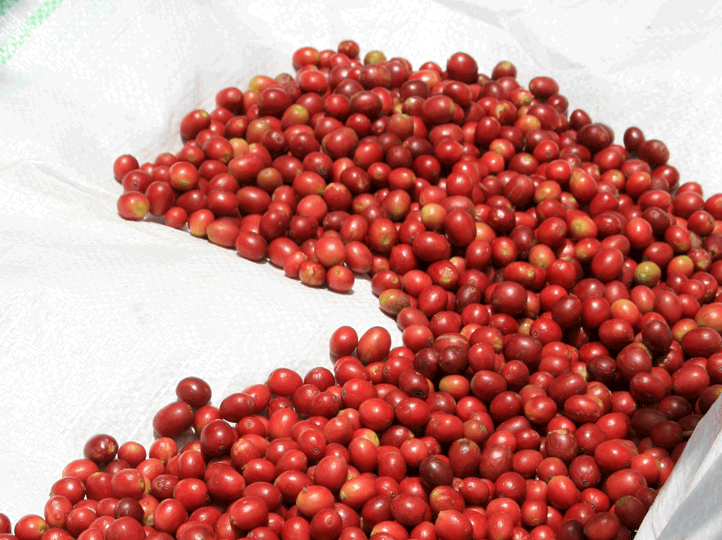 The Process
Ripe coffee cherries are selectively harvested and then delivered to the wetmill. The cherries are floated in a clean water tank to separate by density (lower quality cherries float and are removed). The selected cherries are then pulped and immediately dried on raised beds for 4-6 weeks.
After drying the coffee is rested in its parchment for around 1 month before moving to a dry mill for secondary processing (hulling, sorting, grading, handpicking and bagging in Grainpro/Ecotact bags for export)
Status

Spot

Subregion

Kayungwe, Bwindi (South West)

Producer Type

Small Holder Farmers

Processing

Honey Processed

Bag Types

Grain Pro / Ecotact

Plant Species

Arabica

Variety

SL28, SL34

Coffee Grade

UGA CA NAT SPL SD

Min Growing Altitude

1400m

Max Growing Altitude

2200m

Screen Size

15 Up

Origin

Uganda

Warehouse

Vollers Group Uk

On Sale

No

Top Lot

No

CTRM Contract Number

P8001775-1

Price Per Kg

£6.70